The Power of Possibility:
Awaken Your Pure Possibility to Create a Life You Love
A 5-Day Live Activation
Part Ceremony. Part Workshop. Pure Possibility.
Why you'll LOVE this free Live
Possibility Activation:
Get clarity on what's keeping you out of possibility so you can end your stuckness and begin creating a life you love

Find a powerful framework to review, reframe & rewire your current programming to make that shift from impossibilities (booo) to Pure Possibility (yay!!!)

Feel truly empowered to create like a badass when you choose Pure Possibility! (Which means you steer the ship in the direction of your heart's desire.)
The activation begins on Monday May 3rd.
We'll meet for 20 to 30 minutes each day on Zoom at 11am Pacific. Can't make it live? You'll be able to access the guided visualizations and recordings. All details are in your welcome email.
Join us today at no cost to you.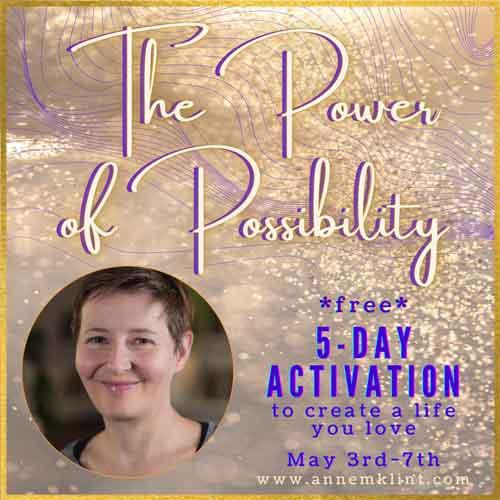 This live. interactive event is offered at no cost only through May 7th.
Join by that date to access all the guided visualizations and live Q&A calls so you can transform your limits to limitlessness!
Learn more about Anné here.